Your loved one's best interests matter most.
A compassionate, unified team provides the kind of high-quality care your loved one needs to be safe and comfortable in their own home.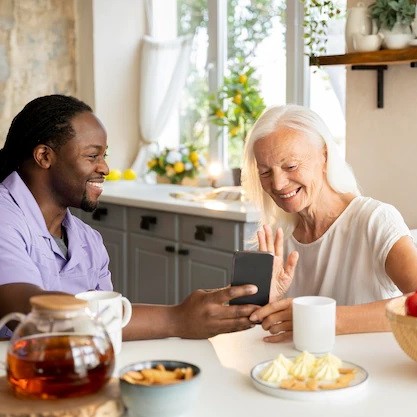 Who is your Mom? Who is your Dad? What kind of person would be the perfect match to provide companionship to your parent? Should we be looking for someone who is chatty, or someone who can maintain the calm in the household? Home care aides are specially selected for each patient to match their needs and personalities and will be a familiar face your loved one sees every day. This provides stability, comfort, and a trusted relationship for your whole family. An Allwel aide can visit your loved one for companionship, conversation, and safety or provide a more hands-on personal care plan developed by a registered nurse (RN) in conjunction with the your doctor.
Constant communication between all members of a patient's care team and family is essential – aides, schedulers, home care nurses, social workers, you, and your doctor all work together to keep your loved one safe, happy, and comfortable. Plans are flexible and can change as your loved one's needs, preferences, or health changes.
How Do I Pay For This?
Home care received through the waiver programs is paid for by Medicaid.  We also can provide services as either private pay or payment through a long-term care insurance plan. Please call us to discuss what works for your situation.
Home Care Services Our Caregivers Provide
Oversight and supervision of safety
Prompting for completion of activities
Companionship
Shopping
Physical assistance in transferring
Transportation
Cooking and meal preparation
Eating
Housekeeping
Bathing and personal hygiene
Medication reminders
Toileting
Please call us to find out more